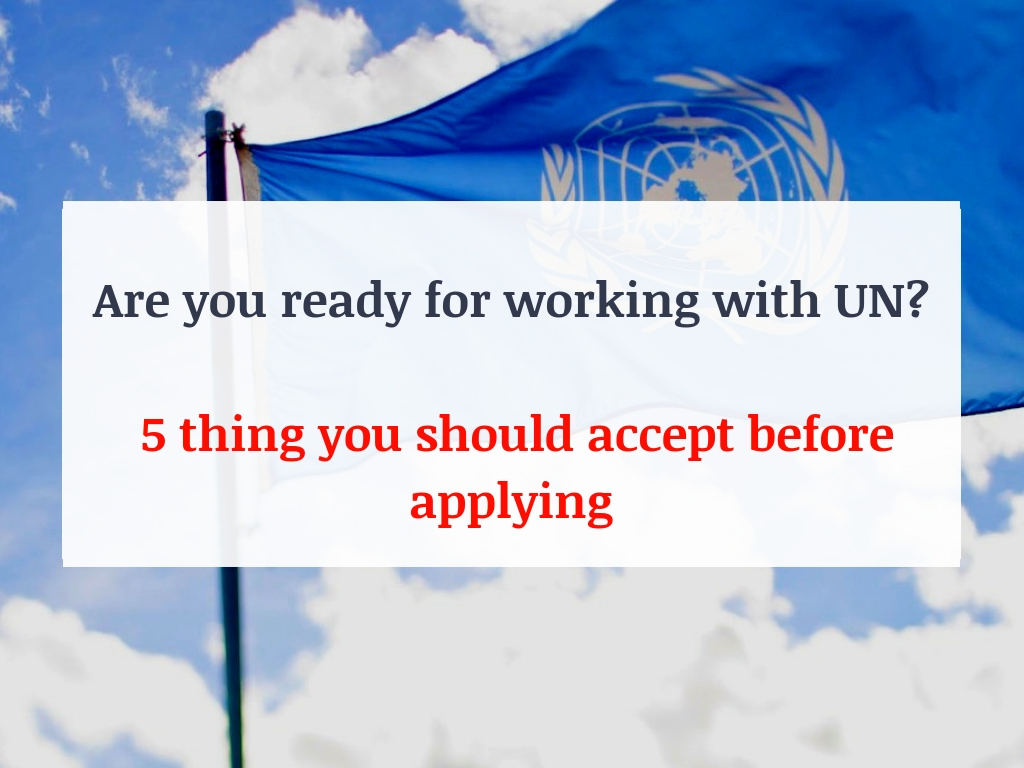 Today, there are more and more people willing to work at the UN. But not everyone knows what they agree on and what difficulties they will have to face with while working in this international organization. Check with some UN features and start looking for a job (if you do not change your mind, of course).

1. Business trips. Get ready for the fact that you will not be sent to tourist places, but to hot spots. Of course, this is not demanded for all workers. You can choose a quieter path or grade. For example, General Staff or Professional Level positions.
2. Competition. Working in an international organization, you are constantly competing with the world. With graduates from top universities and many professionals who want to work in the sector. We get dozens of messages from people who want to get a job at UN. But we are not UNDP themselves, and will be happy to help you find a vacancy (sort them out) and tell you how to apply correctly. Candidates are selected by UNDP staff. We follow their activities and help you understand this structure.
3. Horizontal career. Most likely, you will not be able to become the UN Secretary General. Or the head of UNICEF in your country (though, who knows). Most often, everyone moves horizontally. For example, you can become a communication specialist in one project, then in another. Perhaps the head of the department. On the other hand, you will work with a variety of interesting topics.
4. Stability / instability. They say that an international organization is never laid off from the state. In addition, they pay a scholarship to study at the university for your children, and after 10 years they begin to charge a pension. But there is a pitfall — the project may close. As soon as the problem you are working on is solved, the office is dismissed. But your contacts remain in the UN and you can be assigned to another project later, if you show yourself well in the previous one.
On the other hand, experience in an international organization will help to easily find another job.
5. Non-profit orientation. Here your main task is not money, but benefit to humanity. Working in an international organization, you can save the world without being a doctor or an environmentalist.
Where to look for jobs?
Every day we update vacancies on the site. You can watch them both on the map and separately in the list of cities and countries. But no all departments open new vacancies often. Here is a list of offices where new vacancies is opened often:
UNDP (United Nations Development Program) http://undpjobs.net/organization/UNDP+-+United+Nations+Development+Programme
UN Office Africa
http://undpjobs.net/organization/UN+Office+Africa
Read other our articles!
7 recommendations for young specialists or how to win over the first job.
Smart Guide how to get a Job into the UN and NGOs
How to get a job in United Nations, UNDP or NGOs? Personal experience. Part 1.
PhD - yes or not. Do you really need PhD to be hired in UN?
Do not forget to subscribe on our telegram channel!