How to get a job in the United Nations, UNDP or NGOs? Personal experience. Part 2.Selection process

Today I will continue to explain how to get work in the UN, UNDP, or other NGO.
Find the position
As I mentioned in the first part of article http://undpjobs.net/map/page/view?alias=job+in+United+Nations the easiest way to find a job in UN agencies or NGO — is to find posts that are subject to local recruitment. So these posts are opened for national staff. An exemption can be made if you are from countries of the EU or USA. In this case, you can try to apply for EU missions, OSCE and other international NGOs with "seconded" positions. It means that your Ministry of Foreign Affairs (or equal state agency) can delegate you on such position.
So you find a suitable job position. Your education and job experience corresponds to requirements that are mentioned in the job description (see my explanation herehttp://undpjobs.net/map/page/view?alias=job+in+United+Nations).
☝️ 𝗜𝗳 𝘆𝗼𝘂 𝗻𝗲𝗲𝗱 𝗵𝗲𝗹𝗽 𝗼𝗻 𝗵𝗼𝘄 𝘁𝗼 𝗴𝗲𝘁 𝗮 𝗷𝗼𝗯 𝘄𝗶𝘁𝗵𝗶𝗻 𝗨𝗻𝗶𝘁𝗲𝗱 𝗡𝗮𝘁𝗶𝗼𝗻𝘀 𝗿𝗲𝗮𝗱 𝗼𝘂𝗿 𝗥𝗲𝗰𝗿𝘂𝗶𝘁𝗺𝗲𝗻𝘁 𝗚𝘂𝗶𝗱𝗲 𝘁𝗼 𝘁𝗵𝗲 𝗨𝗡 𝟮𝟬𝟮𝟬.
▶️ http://bit.ly/UNrecruitmentGuide
Next step — to apply!
Qualified candidates are requested to submit:
Cover letter/application.
Examples of previous, relevant work as applicable (reports/data analysis)
At least 2 Referees
P-11 form or also called United Nations Personal History Profile (which can be downloaded from our website at http://www.unicef.org/about/employ/index_53129.html).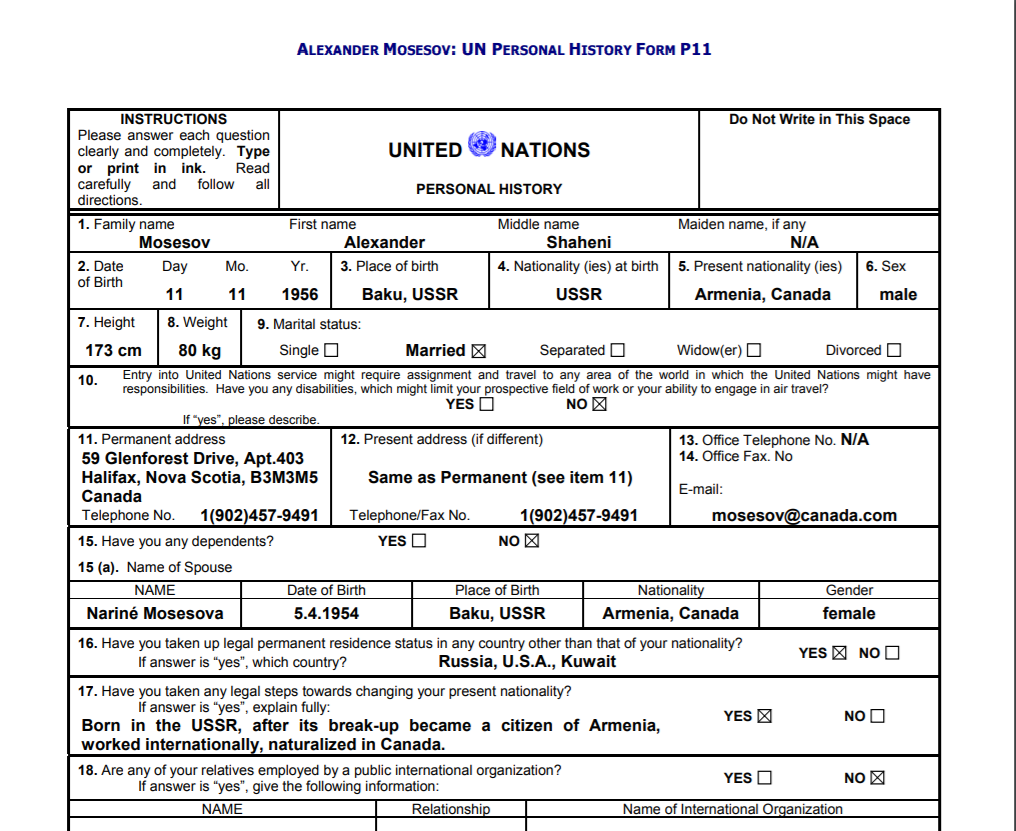 What is the P-11 form?
It's a huge form with all information about you and your previous job and educational experience, family status. The same types of form have all reliable international NGO or governmental agencies, like OSCE, The World Bank.
Here is a good example how to fill in this form http://mosesov.tripod.com/un/UN-P11.pdf
A new edition of form has some differences, but not mostly technical http://mosesov.tripod.com/un/UN-P11.pdf
Do not forget to print and sign this form, scan and attach to your application in the online system or send to the email that mentioned in the post description. The negative moment — different UN agencies have a little bit different types of this form. In this case, you should fill in a new form again and again.
Useful tips
As I mentioned before, the HR process in the UN is long and complicated. Do not afraid to apply on different position even in one UN agency. To hold my previous position in UNDP, spend one year and apply for 10 different positions that were suitable for me. You never know when you will be lucky and you will receive an invitation to the Interview.
The interview can be conducted via Skype or with personal presence. You can always ask for a Skype interview if for different reasons you can't visit the UN office. You should receive reimbursement for tickets if you come for an interview from another city.
In some NGOs like OSCE, there is a rule — if one candidate can't visit the office for a personal interview, all candidates should be interviewed via Skype. It supports the condition of equality for all candidates on the post.
Gender balance. In some cases for supporting gender balance in the office, the advantage will have the candidate whose gender is less represented in the office.
In the next article, I will describe the interview process or salary scale. So, stay tuned!
☝️ 𝗜𝗳 𝘆𝗼𝘂 𝗻𝗲𝗲𝗱 𝗵𝗲𝗹𝗽 𝗼𝗻 𝗵𝗼𝘄 𝘁𝗼 𝗴𝗲𝘁 𝗮 𝗷𝗼𝗯 𝘄𝗶𝘁𝗵𝗶𝗻 𝗨𝗻𝗶𝘁𝗲𝗱 𝗡𝗮𝘁𝗶𝗼𝗻𝘀 𝗿𝗲𝗮𝗱 𝗼𝘂𝗿 𝗥𝗲𝗰𝗿𝘂𝗶𝘁𝗺𝗲𝗻𝘁 𝗚𝘂𝗶𝗱𝗲 𝘁𝗼 𝘁𝗵𝗲 𝗨𝗡 𝟮𝟬𝟮𝟬.
▶️ http://bit.ly/UNrecruitmentGuide
.