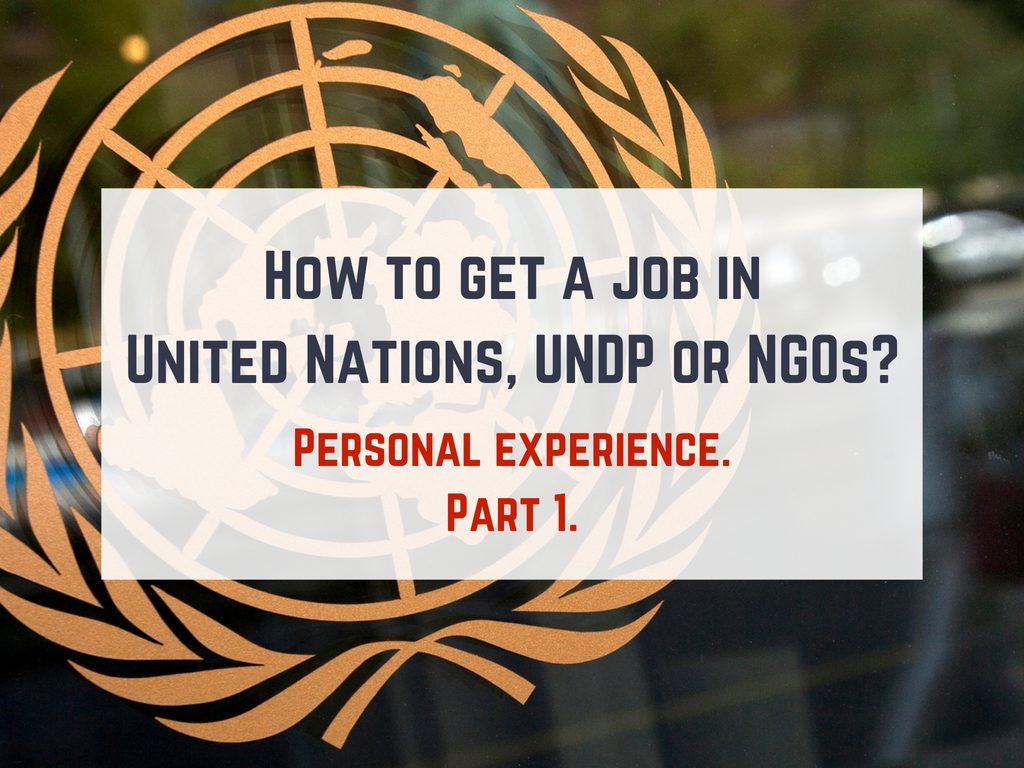 How to get a job in the United Nations, UNDP or NGOs? Personal experience. Part 1.
I received a lot of requests for the purpose to share my own experience how to be hired to UN office. So, I started the list of articles devoted to this topic. I will try to publish at least one article per week.
From the very beginning, you should know that this procedure is a long track to the job. Almost all NGOs, but especially the United Nations is a very bureaucratic organization, and you be ready for this.
Nevertheless, working for the UN is a big challenge, and the main reason is not getting a good salary, but try to change this world.
So, first of all, you should start to find a vacancy (open position). You may go to the official website of the United Nations or UNDP, but it's not effective. I will explain why. On the website of the UN, there are mostly jobs for professionals with experience. Almost all UN vacancies on the official website with this permanent contracts (Letters P-2, P-3 and so on indicate this). To take such positions is a quite difficult and long process. You even couldn't imagine how many people apply for such positions in the UN. For example, the security officer position was shortlisted 700 candidates but applied for these positions like 3000 candidates. Why so many? Because these permanent positions give you possibilities to work for the UN, even after the UN mission in your country will be closed. You will save your position and move to another UN office. Also, you take part in UN pension fund, UN insurance and so on.
So, it's better to use our website http://undpjobs.net because we publish vacancies for international and local staff not only in UN but also in other NGOs, like Doctors without Borders, Amnesty International, OSCE, EU, Save the children and so on. For the beginner with no experience or with lack of NGOs is better to apply to the positions for locals in your country. Go to the main page http://undpjobs.net and find your location. In the description, it will be indicated like «Only for local staff», «National Position» — read this carefully.
☝️ 𝗜𝗳 𝘆𝗼𝘂 𝗻𝗲𝗲𝗱 𝗵𝗲𝗹𝗽 𝗼𝗻 𝗵𝗼𝘄 𝘁𝗼 𝗴𝗲𝘁 𝗮 𝗷𝗼𝗯 𝘄𝗶𝘁𝗵𝗶𝗻 𝗨𝗻𝗶𝘁𝗲𝗱 𝗡𝗮𝘁𝗶𝗼𝗻𝘀 𝗿𝗲𝗮𝗱 𝗼𝘂𝗿 𝗥𝗲𝗰𝗿𝘂𝗶𝘁𝗺𝗲𝗻𝘁 𝗚𝘂𝗶𝗱𝗲 𝘁𝗼 𝘁𝗵𝗲 𝗨𝗡 𝟮𝟬𝟮𝟬.
▶️ http://bit.ly/UNrecruitmentGuide
After this, read carefully job description. Especial formal criteria like these:
Required Skills & Qualifications:
• Bachelor's or equivalent required in international relations, development, journalism, or related field; Master's preferred;
• Minimum 6 years of experience writing significant proposal sections (management, resumes, past performance, etc.) and supporting the full proposal development life cycle in response to solicitations from the Federal Government;
• Minimum 3 years of proposal development experience for USAID and other USG agencies.
• Excellent writing and editing skills;
• Excellent writing skills, including the understanding of grammatical rules, punctuation, sentence structure, active/passive voice;
• Ability to surge work schedule to meet proposal schedule demands.
Education and experience criteria are essential.
If you haven't this experience or education, do not waste your time and time of the HR unit.
It's important to know, that in the most NGOs all vacancies are divided into three categories: 1) Seconded (it means that your government delegate you to this NGO, and will pay you part of your salary).
2) Contracted (International Advisers with categories P-2+, it means they will be paid by NGO).
3) Local contracted (Categories: General Staff, categories G-2+, National Officer positions NO-A, NO-B, NO-C, rarely advisers). As I told before, the last category is the most interesting to start your career in the NGO.
So you go to the web page http://undpjobs.net/country and in the Netherlands (for instance), you find a vacancy that is suitable for you http://undpjobs.net/vacancy/trial-support-assistant-g-5-short-term-18327-3804100. Category G-5 means General Service. In the job description, you will see the sentence «A current ICC staff member who is holding a fixed-term appointment may apply for any short-term position. Where a current ICC staff member is selected to a short-term position, he or she will be temporarily assigned to the position in line with section 4.10 of ICC/AI/2016/001. GS-level posts are subject to local recruitment only». It means that only the residents of the Netherlands can apply for this position.
Also, you can browse vacations in a specific organization, like UNDP, UNOPS and so on here and look for a vacancy that is interesting for you. http://undpjobs.net/organization
I tend to think it's quite enough for the first part of How to get a job in the United Nations or NGOs? Personal experience.
The next week I will prepare for you the article, about how to choose a suitable vacancy and how to apply for the position in NGO.
Have a nice day!
☝️ 𝗜𝗳 𝘆𝗼𝘂 𝗻𝗲𝗲𝗱 𝗵𝗲𝗹𝗽 𝗼𝗻 𝗵𝗼𝘄 𝘁𝗼 𝗴𝗲𝘁 𝗮 𝗷𝗼𝗯 𝘄𝗶𝘁𝗵𝗶𝗻 𝗨𝗻𝗶𝘁𝗲𝗱 𝗡𝗮𝘁𝗶𝗼𝗻𝘀 𝗿𝗲𝗮𝗱 𝗼𝘂𝗿 𝗥𝗲𝗰𝗿𝘂𝗶𝘁𝗺𝗲𝗻𝘁 𝗚𝘂𝗶𝗱𝗲 𝘁𝗼 𝘁𝗵𝗲 𝗨𝗡 𝟮𝟬𝟮𝟬.
▶️ http://bit.ly/UNrecruitmentGuide