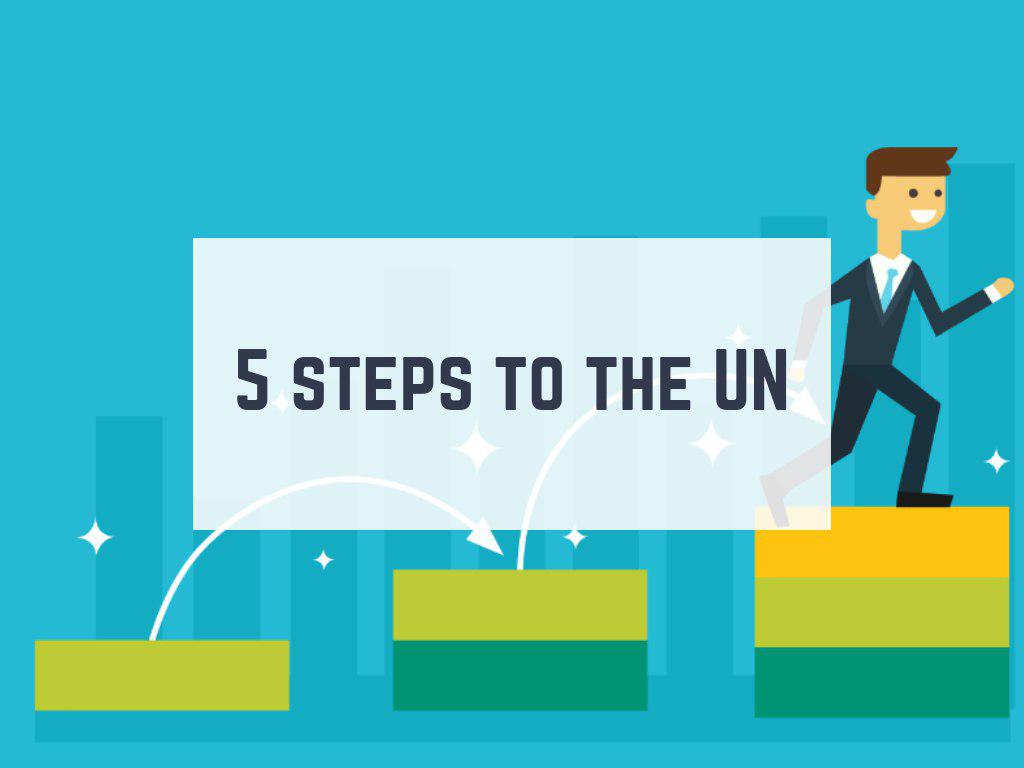 5 steps to the UN
Do not apply for open vacancies, if you have not done these 5 steps.
Job search in the non-profit sphere does not look like in business corporations. There are many rules and formalities that need to be followed. What do we advise you before moving from work in an usual company to an international organization?
1. Improve English
If English is your native language, go to step 2.
English is the main international language. The level required depends on the position functions. For example, a communication manager should own it perfectly — better than most Englishmen. But there are positions for which the average level is okay. The main thing is to be ready to improve it constantly. After all, even communication and correspondence with colleagues require knowledge of English.
2. Gain experience
Most of the positions are looking for specialists with 3-5 years of experience in projects of the same field. Such positions are much more than entry-level positions. It turns out that getting into an international organization is almost impossible without it. But how then to be?
There are several workarounds:
• gain experience in a public institution, media or socially-oriented business;
• start with an internship or volunteering (which can later be turned into work);
• increase their expertise in the "problem" topic (through work in the Ministry of Health, Ecology, etc.).
In any case, do not give up. After all, organizations increasingly need new employees.
3. Spend more time on resume
In this area, it is very different from what we send to commercial firms. Each organization has its own form and its own screening methods. For example, in the UN, the first check is always carried out automatically for keywords or experience. Because thousands of applications from almost 200 countries of the world come to them.
A lot of good experts do not pass because of an unsuccessful resume. There are even consulting services that help create stronger CVs for international organizations. Since the resume in this case is half the success.
How to make a CV?
The main idea of CV, that this document must impress HR officer and add you to short list of candidates. What could be impressive? Your education in very well known university, training in reliable and well known organisations, working experience on the same position or even higher in reliable company or organisation.
• The main advice is not to try to fill it all at once. Give yourself at least a week and spend 2 hours a day on the section. Otherwise, you quickly get tired and the summary will turn out to be crumpled.
• After filling, ask someone to see your application. Best of all - an employee of the organization in which you want to get. Perhaps the former HR. You can also contact your English tutor, boss, or colleague.
4. Get a profile education
It is very desirable to have a higher education. This elevates you among the candidates. But that is not all. In most cases, it should relate to the topic with which you have to work. That is, if you are a master of law, it will be difficult to fill a vacancy in the field of communications. Even with great experience. A proper education is very important. If you would like to hold a position in EU or the USA, most of your competitors will have diplomas from high rank EU and USA Universities. It will be very difficult to be shortlisted especially on entry level positions with diplomas of "nobody-known" universities.
5. Get recommendations
For most organizations, recommendations are an important item in the selection process. You need at least 3, sometimes 5 recommendations.
Who to take them from? Excellent options — the head or a former university professor. In some cases, it is important to show diversity in nationalities, positions and areas. Moreover, these people should be ready to fill out a form or answer a call when they are addressed. Because recommendations are usually carefully checked.
Improve in these 5 clear areas and stay tuned!
Read our other Articles.
7 recommendations for young specialists or how to win over the first job.
Smart Guide how to get a Job into the UN and NGOs
How to get a job in United Nations, UNDP or NGOs? Personal experience. Part 1.
PhD - yes or not. Do you really need PhD to be hired in UN?
Do not forget to subscribe on our telegram channel!